---
---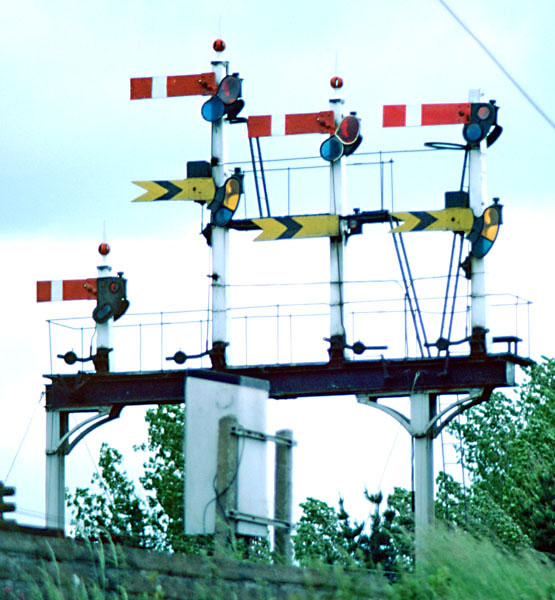 The former Newton Abbot North down homes
Though I've happily remained free of the urge to don an anorak and go standing on station platforms writing down loco numbers, I've always loved trains. My grandfather had been stationmaster at Malvern Wells on the old GWR and in my younger days I used to love listening to all he told me about how things were done on the railways. But it was signalling that really caught my interest, particularly older semaphore signals like the one depicted here. Apart from providing a welcome splash of colour and ideal targets for my camera, I had a natural interest in their engineering principles.
In my teens, twenties and thirties I travelled around quite a bit taking photos, though what I could do then was limited by the money I had available and camera/film technologies. Taking signalling photos was a regular pastime until the early 1990s, by when I felt I'd captured a good collection of photos and many of the best signals I'd known had been replaced. I was also mainly using print film for other photography by then, and wasn't keen on mixing formats. But since digital technology solved this 'format problem' for me, I've got right back into signal photography with a vengeance! I had expected most semaphore signals would be gone by now, but many more than I anticipated still survive, and I'm now taking the chance to photograph more of these while I still can.
If you're interested you will also find John Hinson's Home Signal page a tour de force on the subject (and John has very decent taste in music too!) John also runs the Signal Box Forum, a lively web forum for signalling enthusiasts. Since buying my digital SLR I have started taking signalling photos again, and have a good number of pages with recent photos of signals and track layouts, including the superb semaphore collections at Shrewsbury and Worcester. Visit my Signals page for more information and a list of all the photo pages.
---
Lizzie Pearman, Spiralize
Rachel Jones, now of The Reasoning
I'm a long-standing fan of good music, mainly enjoying classic/progressive/indie/folk rock but sometimes venturing into genres ranging through psychedelics to some of the more 'left-field' artists within contemporary genres such as tribal, trance, and occasionally ambient/techno or house. I don't spend quite so much time following bands these days – with all my other hobbies plus the day job, the time I have is not infinite – but when I do go to gigs I often take the camera along. A good proportion of this site is devoted to the bands who have given me so much pleasure and solace over the years.
In the days before "Web 2.0", I began to run official websites for my favourite underground bands, and I still maintain these for Thames Valley band Irony, former Malvern tribal band Spiralize, and celtic/world dance band Headhunters. With the emergence of networking sites like MySpace, the need to do this is less pressing, but I still maintain index pages, with short resumés and links to relevant websites and other resources, for Welsh progressive/celtic band Karnataka, the Strawbs, young talented Brazilians Ashtar, and Drugstore. Another site I created, for talented German solo artist Dagmar 41, also remains, though as an unofficial site nowadays. There is also a page with my review of the album Campaign by Dutch rock band PTS, which was my album of the year for 1997. I keep a list of top favourites on my Bands page; as well as those already mentioned, this includes entries for Legend (1990s UK pagan band), Nigel Shaw/Carolyn Hillyer, Mostly Autumn, After Crying, Inkubus Sukkubus, Peter Hammill/Van der Graaf Generator, Illusion/Renaissance MkI, Curved Air and several more.
Luiz Garcia, Ashtar
Drugstore at Brighton
In the early days of the Internet I also started running email/web chat groups, initially for Drugstore fans. It was a great experience being in the vangaurd and one of the first to experience the way these forums spontaneously generate social communities by enabling people with similar tastes to meet up in person at gigs after first communicating electronically. I also run a group for Ashtar supporters, and remain a co-moderator of Strawbs' chat group Witchwood - one of the truly great electronic communities.
Once I had cut my teeth as a gig photographer, I spent quite a lot of time following bands in the 1990s and early 2000s and taking photos for this site. Back then the free publicity it gave bands was even more important than today. There is a list of all the photo pages I've done on my photography page.
You can also browse my CD collection here or my list of CD singles and 'Various artists' compilation tracks. I'm still missing a lot of URLs, though, and don't have time to go hunting them out myself, so do please mail me any missing ones you can (or any other corrections) and I'll see they get incorporated.
I also keep a page of other music links to help anyone looking for information or wanting to buy CDs or gig tickets. This is organised into sections that list societies (such as the Classic Rock Society), gig information, venues, CD vendors, other music websites, publications, indexes of band and other information, and some relevant specialist record labels.

---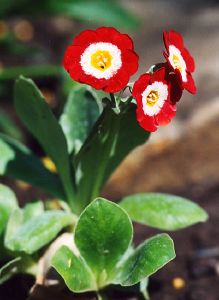 A Primula I grew
I also enjoy gardening and horticulture, and of course flowers make lovely photographic subjects. I am also a member of the Royal Horticultural Society. So I've included a page about the joys I get from gardening together with a feature about my favourite flowers - Primulas and a photo shoot from the RHS Garden at Wisley.
---
Though I'm only an occasional drinker these days, I still enjoy a good pint of traditional beer and continue to support the Campaign for Real Ale (CAMRA).
The Costwold Line Promotion Group promotes the (London -) Oxford - Worcester - Hereford railway line. This was my local train service when I was younger, and I have travelled it many a time. Occasionally I still do, when visiting Malvern, though usually only between there and Worcester nowadays.
National Rail's UK online timetable service is good for working out train times for journeys.
---
Isabel Monteiro, Drugstore
Happy surfing!

---